News
Iceland tour
From october 31 untill november 9, 2004 I will be in Iceland. I am invited to join a project called: Iceland Soundscape. Percussion player (blacksmith and sculptor) Steve Hubback and I will be recording on different places in Iceland meeting all kinds of acoustics and sounds of nature. The Cd of this recordings will come out in near future (if you are interested please let me know I 'll keep you informed!!). Next to this recording Steve and I (sometimes joined by Icelandic musician) will give a couple of concerts aswell. Because Iceland doesn't have a big club scene, these concerts will be on various places like a bookshop, a recordstore, an art centre and a house for blind people. If you want more information about dates and locations please visit the Steve Hubback website: www.dse.nl/hubgong. We will also perform on Icelandic TV and I will give a lecture on improvised music at an art school.
Concert with Min Xiao Fen
Min Xiao Fen is in Nederland i.v.m. het luitfestival dat in het weekend van 20 november gehouden wordt in het Utrechtse Rasa . Op dit podium voor wereld muziek zal Min klassiek

Chinees repertoire vertolken op de pipa (= de chinese luit).Min is een virtuoos op dit instrument dat zij al op jonge leeftijd leerde bespelen van haar vader Min Ji-Qian . De pipa is een viersnarig instrument ,peervormig met een gebogen nek en wordt bespeeld vanuit rechtstandige positie. Het instrument bestaat zo'n 2000 jaar en er bestaan meer dan 70 verschillende technieken om het te bespelen.

Min maakte al op jonge leeftijd concertreizen en speelt zowel chinees traditioneel als eigentijdse muziek. Sedert 1992 woont Min in New York en is zij in aanraking gekomen met improvisatiemuziek. Op initiatief van John Zorn vond er in 1997 een ontmoeting plaats van Min met gitarist Dereck Bailey met als resultaat de CD Viper . Met deze CD was Min meteen een vooraanstaand lid van de New Yorkse down town music scène.

Een paar dagen na haar concert in Rasa vertrekt Min naar Frankrijk om aldaar met het Picardie Symfonie orkest nieuw werk uit te voeren van de chinese componist Tan Dun en Zhou Long.

Tussen deze twee activiteiten verblijft Min enige dagen in Eindhoven om daar twee improvisatieconcerten te geven met saxofonist Ad Peijnenburg .

De concerten vinden plaats op ma.22 november in Burgers,Hertogstraat 2 B en op di.23 november in cafe Kraaij en Balder , Strijpsestraat 79. Aanvang beide avonden 21.00 uur.

Meer informatie over Min Xiao Fen vindt U op www.bluepipa.org
Just released : Maihama
Maihama

In the summer of 2002 the international saxophone sextet The Six Winds toured in Japan.
Volume 1 of the presented repertoire has been brought on the CD Komoro.
Now volume 2 is available on the CD Maihama .
It will be difficult to buy this CD in shops in the west but you can get it in my webshop for 18 euro or 24 dollar.
Maihama is released on the Japanese Ohrai records JMCK 8003.
Be witness of The Six Winds live on stage in Japan !!
If you are interested in the whole repertoire of the Japanese tour you can buy Volume 1 & 2 for 30 euro or 40 dollar.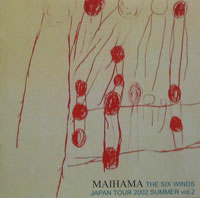 Jazzword Review
By Ken Waxman, Jazzword.com

WILLIAM PARKER/AD PEIJNENBURG
Brooklyn Calling
Dino CD 32004

PAUL DUNMALL/PAUL ROGERS
Awareness Response
Emanem 4101

Familiarity and novelty are the two strategies that can work equally well in improvised music. That's why CDs with almost the same personnel can sound so different.

Consider the depth of penetrating understanding that goes into the duo session by two Englishmen, multi-reedman Paul Dunmall and bassist Paul Rogers, and contrast it with the interactive first-time meeting between American bassist William Parker and Dutch reedist Ad Peijnenburg. Similar on the surface, both discs define cooperative duo playing. But both arrive at that concordance differently.

Longtime members of Mujician with pianist Keith Tippett and drummer Tony Levin, as well as mates in larger bands led by Dunmall and Tippett, the reedist and bassist first recorded as a duo in 1988. Giving Rogers an opportunity to show off his A.L.L. 6-string bass, each track on AWARENESS RESPONSE features Dunmall on a different horn: border bagpipes, tenor or soprano saxophone.

In contrast, except for one track playing sopranino, Eindhoven, Holland-based Peijnenburg sticks to his main horn, the baritone on the other five tracks. Founder of the international saxophone sextet The Six Winds, which has included Danish altoist John Tchicai and Washington, D.C. tenor man Andrew White among others, Peijnenburg's other main band features South African percussionists Thebe Lipere and Louis Moholo.

With no strings attached to his improv conception since the mid-1970s, the Dutchman altered his game plan and toured and recorded with Parker for the first time late last year. Someone whose range of activities have included partnerships with nearly every major contemporary saxman from New York's Charles Gayle to Chicago's Fred Anderson, Parker was an easy fit. As a first-time duo session, though, his and Peijnenburg's playing is a lot more cheerily anarchistic than Dunmall and Rogers' methodical sound triptych,

Featuring his main axe -- the tenor -- on the second track, Dunmall honks out scattered tone patterns as Rogers responds with guitar-like flat picking that glides from the centre up to the tuning pegs. When the saxman moves into reed-biting, squealing and squeaking with an intensity vibrato, Rogers follows suit, producing banjo-like flailing, rapid runs and careful finger picks. As the tenorist rasps out irregular pulses, circular trills and obbligatos, the bassist creates an accompanying pattern filled with double and triple stopping and circular strums. Using string snaps, slurred fingering and staccato stops, Rogers ends with a crescendo of rotating thumb picking that could have fit in with such British folk-rock bands of the 1970s as Pentangle -- if it played free improv.

Throughout both men seem to be playing all the time, and this carries onto "Pressure Response", Dunmall's bagpipe feature and "Precious Response" for soprano saxophone. On the later, under-the-breath trills and fibrous obbligatos soon lighten as Rogers creates voluminous, abrasive spiccato tones. Once the arco bowing take on locomotive power with ponticello accents, the saxist exposes trilling ghost notes that soon meld with Rogers' output. When Dunmall's swelling smears and twitters get louder and faster, they're pushed aside by triple stopped basso and forced intermittent timbres from Rogers that are as diffuse as they are continuous.

Arm-operated bellows for his south Scotland bagpipes give Dunmall viscous waves of sound on "Pressure Response", to which Rogers responds col legno and sul ponticello. With one set of responses woody and the retorts booming as well, the textures become almost too thick here. Finally the bassist surmounts the vibrating, buzzing tones with an impressionistically tinged legato line that soars above the pipes' pressure.

Reed-biting and kazoo-like timbres make Peijnenburg's sopranino saxophone playing stand out on "Streetwise", even on the freewheeling improvisations that make up BROOKLYN CALLING. As a matter of fact, quick chirping twists and vibrated flutter-tongued turns so take up the circus music reminiscent melody, that Parker's strumming almost fades into the background.

This isn't the case on other tracks such as "Many Things", where by the last third the bassman's ponticello tones and vocalized shouts of "where'd he go" presage harsher, sharper and spikier bent notes from the bull fiddle and some tandem string stretching and syllable scatting. The piece begins with tough, repeating Aylerian glossolalia from the baritone as Parker constructs a bouncing pulsation beneath it. When Peijnenburg introduces irregular pitches and flutter tonguing, the bassist, pizzicato, begins accelerating the tempo in miniature motions so that it's soon moving one-and-one-half speed quicker than before. Martial reveille, doits and growls enter the air from the sax, which leads to Parker's spiky scatting.

"Clear Stray" is almost 15 minutes of elongated wind tunnel exhortations from baritone sax, while "Notes from Heaven" offers nearly 20 minutes of mellow, subterranean baritone lines. On the first the saxman uses the trick of creating a bugle-like martial anthem and wriggles the notes every which way as he plays mid-range variations on the theme. His snarling repeated note pattern start to sound like "Mad Lad" saxophonist Leo Parker's seminal blues-bop from the 1940s as bassist Parker -- no relation -- responds with bouncing, staccato arco lines. On the second piece, the bassist moves from sul tasto to widely-spaced plunks to constrained walking bass, the better to deal with the baritonist's output, which interspaces snorts, deep, metallic resonating body tube vibrations and renal constraint.

"Pretty Easy", the concluding track, even shows the two operating in an avant-garde balladic mode -- sort of an updated Harry-Carney-meets-Milt-Hinton fashion.

When Peijnenburg's subterranean tones dissolve into pure breaths at the end, the newly minted duo have proven they can handle any time and tempo and make it interesting -- as do the two Pauls on the other CD.

-- Ken Waxman

Track Listing: Awareness: 1. Pressure Response* 2. Priceless Response+ 3. Precious Response#

Personnel: Awareness: Paul Dunmall (border bagpipes*, tenor+ and soprano# saxophones); Paul Rogers (A.L.L. 6-string bass)

Track Listing: Brooklyn: 1. Notes from Heaven 2. Many Things 3. Streetwise* 4. Clear Stray 5. Pretty Easy

Personnel: Brooklyn: Ad Peijnenburg (sopranino* and baritone saxophone); William Parker (bass)
Brooklyn Calling reviewed on Kinda Muzik
KINDA MUSIC modern internet music magazine
Review by Remco Takken 22 -5-2004
William Parker & Ad Peijnenburg / Brooklyn Calling
CD Dino 32004 recorded 14 -1/ 15-1 2004 Brooklyn NY

The baritone sax is the kind of sax you don't hear so much.In the progressive rockgroup morphine there was playing a baritone but who knowns the name of the player ?( look at the answer below).

So we are talking about a special member of the sax family. The dutch (lives in eindhoven ) baritone saxplayer Ad Peijnenburg is one of the few that has the courage to experiment with sound and the musical form of his melodies. Together with the NY bass player William Parker he reaches an unprecedented dark coloured intimacy. I don't know if the power and clearness of Peijnenburg's frases is coming from his experience as a streetmusician or his natural interest in � real�composition . As a matter of fact he is never boring or playing notes that give you the feeling of to much. Although Parkers groupimprovisations suffers often from making it a bit to difficult there he is playing appropriate stuff with a beautifull tone.

At the end of the piece Notes from heaven we even hear a friendly walking bass. I wish this walk would have been a bit longer.

The absolute climax of this listening-CD is strange enough not when bari and bass go to the bottom. Streetwise is built around a fragile sopranino sax and a gentle plucked bass.

When you indulge yourself to the sometimes Indian frasing of Peijnenburg you will burst into chuckling when hearing the dog like howling effects which also are part of the vocabulaire .
But keep your attention otherwise while laughing you will mis many beautifull moments.
The naïve sounding humoristic children songs that are passing by are fragile and beautifull in a way you will seldom hear. Maybe only the british colleague- streetmusician Lol Coxhill with whom Peijnenburg used to play does it this way to.